New Azek Vintage Collection
It's been a few years since we've seen a new collection Azek (not counting new XLM line from Timbertech). But the wait was well worth it. Just take a loot below at the beautiful new colours in Vintage collection.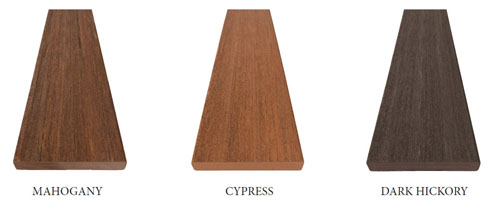 Although samples are not available yet (as of early January 2015), new Vintage collection does have a different texture making it look even more like real wood. Unlike Harvest, Terra and Arbour Collections, Vintage collection will be offered with grooved as well as solid profiles giving us more options for installation.

" AZEK Deck's Vintage Collection is the next generation of capped cellular PVC decking. With its industry leading technology, the Vintage Collection sets a new standard in aesthetics giving you a more realistic wood appearance than competing alternative decking products. With its rustic texture, rich colors and superior durability, the Vintage Collection is sure to bring anyone's dream outdoor living space to life."

New rustic feel of Azek Vintage Collection Mahogany, Cypress and Dark Hickory is sure to find a home in many households. Royal Decks will start offering all new colours starting March 2015.