Custom Wooden Gazebos - Royal Decks and Landscapes
Custom Gazebo Plan, Design & Build
Gazebos are a great addition to any yard, big or small, and can be constructed in a wide range of styles, materials, and sizes.
Whether you want to keep an open concept design or add railing to your structure, we build custom gazebos that meet your exact needs.
Get a Quote
---
How We Bring Your Ideas to Life
First, we meet with you to develop an understanding of what exactly you are looking for in a gazebo, and then we design several models that meet your requirements.
We will help you visualize how a gazebo will fit within your existing yard by rendering 3D design drawings for your review. Next, you can select the model you like and specify structural elements and materials you would like included in the design of your gazebo.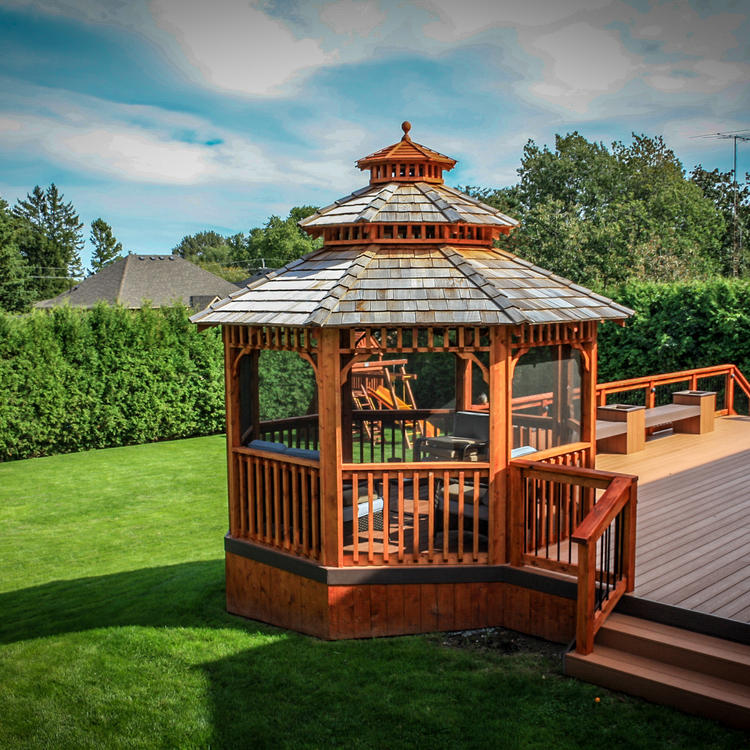 The Royal Decks Advantage
At Royal Decks, we have some of the most experienced carpenters in the business, specializing in custom deck and gazebo construction. Our team of professionals are passionate about seeing incredible landscape designs come to life.
---
Quality Materials
Royal Decks employs the best quality materials and creates the most structurally sound wooden gazebos, decks, pergolas, and other structures. Our projects not only meet but exceed, local building code requirements. Simply said, we don't take shortcuts.
On-Time and On-Budget
We build our gazebos on time, and on budget. You won't have to wait days, if not weeks, for your project to be completed — and you definitely won't be breaking your budget at the end of it all. Most importantly, we warranty all our custom carpentry work.
We've Helped Hundreds of Customers
"From initial contact until completion they were very easy to deal with, responsive, and professional. The workmanship was excellent. They provided contact numbers for the various people involved with the project and listened to our requests."
- Angela Oakville, ON