Custom Outdoor Kitchens
You love to cook, but there are aspects to a kitchen that a simple BBQ cannot replace. Between the fridge of cold drinks, drawers of clean cutlery, and counter space for food hot off the grill — you just can't help but run inside and out.
If it feels like a constant struggle to enjoy the outdoors when entertaining at a backyard BBQ, a custom outdoor kitchen can help you maximize your summer fun.
Get a Quote
---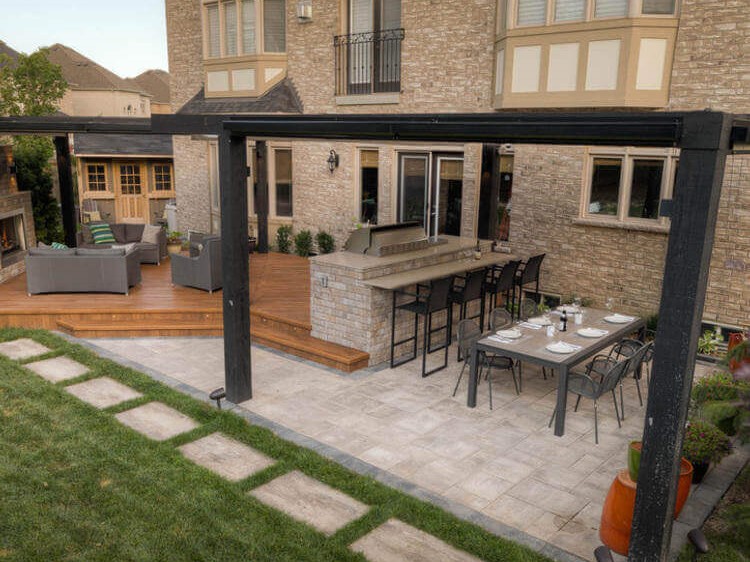 Bringing the Heart of Your Home Outdoors
While a kitchen is said to be the "heart of the home," your outdoor kitchen is sure to be the "heart of the party". With a stainless steel grill, a stocked fridge of beverages, and spacious countertops for food prep and serving — it's pretty easy to see why.
To become the perfect entertaining space for your backyard landscape, your kitchen needs to keep you connected to the party. When our team designs your kitchen with features like an outdoor gas range, you'll be able to continue your conversations with family and friends while boiling lobster, baking pizza, or flipping.
Where to Build Your Outdoor Kitchen
When you're thinking about building your outdoor kitchen, you should first consider the layout of your backyard design and how you want to utilize it in all Canadian seasons. Building a kitchen close to your home, under a covered deck or on a backyard patio will give you convenient access to your BBQ through the summer and the winter.
If your backyard design includes a pool house, pavilion, or cabana, an outdoor kitchen under these roofing structures will help create more intimate spaces and maximize the full scope of your backyard landscape.
Why Choose Royal Decks and Landscapes
From design to installation we will help you enjoy more of your outdoors, by creating a custom outdoor kitchen that has all the amenities you need to cook and entertain guests outside. Our team of designers will work with you to build the perfect outdoor kitchen for your needs.