Burlington Decks | Royal Decks and Landscapes
When it comes to building a deck, there are a lot of options and unique variables to consider, from deck material to deck size and shape, as well as railings, stairs, and landscaping options. It can feel overwhelming, but we can help.
The team at Royal Decks and Landscapes in Burlington specializes in creating high-quality custom decks and outdoor living areas that are built to last. You deserve the backyard of your dreams. Ask us about your custom deck in Burlington.
---
"From first contact to completion, the Royal Decks and Landscapes team was professional and a pleasure to work with. Miro took in our ideas for a backyard deck with pergola and proposed a design with detailed drawings to meet our requirements. We now have our deck built exactly to design spec with no issues or surprises. The finished product and build quality are outstanding and we receive positive comments about our backyard living space from friends + family thanks to the Royal Decks and Landscapes team!"
— Gwun and Maggie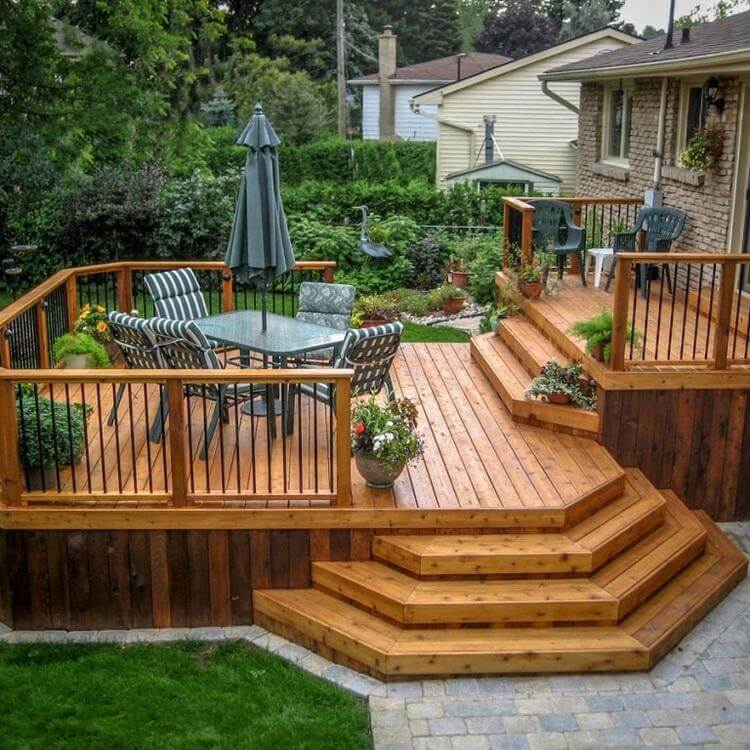 Burlington Custom Deck Services
Burlington is where Royal Decks and Landscapes first started. Burlington is one of our most popular locations for custom deck building, and as a premier Burlington deck builder, we are proud to help homeowners across the city enjoy new decks that reflect their unique style and provide years of enjoyment. When you call us to schedule a deck estimate, we'll send a professional deck consultant to your home to discuss designs and materials.
---
Custom Deck Design and Construction
Let's get started! First, we'll meet with you to discuss your needs and wants, and how extensive your renovations will be. Next, we'll review potential improvements, so you can visualize the kind of space you want. Finally, our expert team will build your dream deck — creating an oasis at your home where friends and family can relax and enjoy time together.
Custom Deck Additions
Deck enhancements to your project, such as glass railings, illuminated steps, and overhead lighting, will transform your deck into an elegant space. It's all in the detail! We can determine the best enhancements for your custom deck design if you are looking for a larger-scale addition, such as a partially-covered or fully-covered deck roof structure.
We go the extra mile to ensure that your deck project will be completed with precision and expertise, while staying on budget and on schedule. If you've been disappointed by other landscaping design companies, we promise to give you the 'royal' treatment with prompt replies and clear communication.