Mississauga Decks | Royal Decks and Landscapes
Do you want to enhance your outdoor space? Do you have a vision of what you are looking for, but need a deck contractor in the Mississauga area that can create a unique design for your property? At Royal Decks and Landscapes, we create beautiful custom decks made from the highest-quality materials designed to last for decades. Let's get started on your new deck.
---
"Very professional and very high-quality work. If you are looking for a backyard makeover, this is the company to work with. We worked with them to demo our old deck and design a complete backyard oasis. We started with just the composite deck and pergola (with plans to do the rest later) and are so happy with the result!"
— Nicole D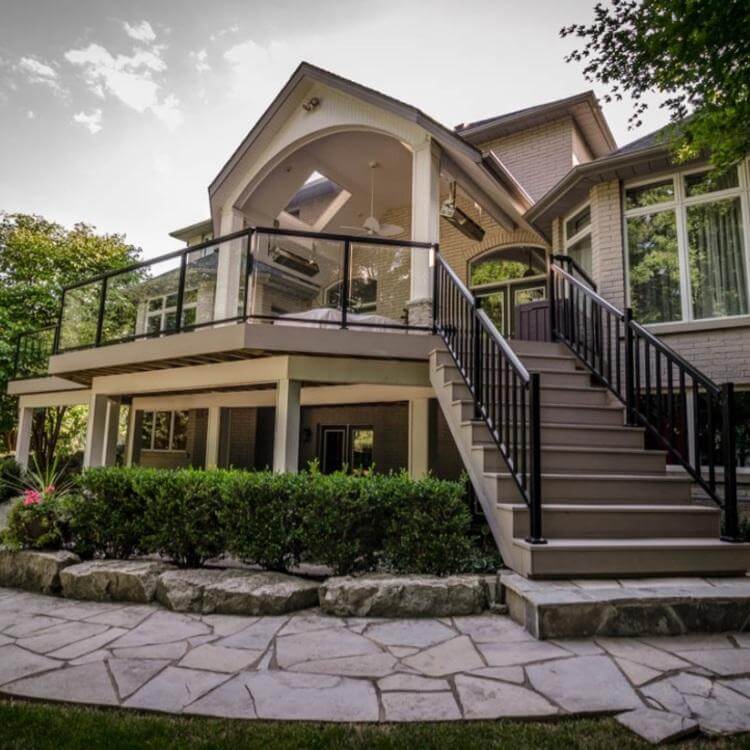 Mississauga Custom Deck Services
When you install a custom deck with the expert team at Royal Decks and Landscapes, you'll enjoy more than just an attractive place to relax. You'll benefit from an increase in your home's value and a boost in your curb appeal.
---
Custom Deck Design and Construction
While decks are built for functionality, they should also be visually appealing and create an atmosphere where you can entertain and relax. We can help you achieve your vision for your deck. Our Mississauga deck builders work on countless projects every year, helping homeowners create the perfect deck for your lifestyle.
Custom Deck Additions
We can create a deck that is beautiful, functional, and durable. Your custom deck can be made even more stunning with glass railings, illuminated steps, and overhead lighting. No matter what type of deck enhancements you envision, we have you covered. We can determine the best enhancements for your custom deck design if you are looking for a larger-scale addition, such as a partially-covered or fully-covered deck roof structure.
We respect our clients' time and money, and we pride ourselves on creating landscaping designs that are within their budgets and meet their schedules. If you have been disappointed by other landscaping design companies, we promise to give you the 'royal' treatment with prompt replies and clear communication.