Timber Frame Patio Roof - Royal Decks and Landscapes
Timber Framed Patio Roof Design & Build
Outdoor gatherings, delicious barbeques, and nights with friends and fun outside are wonderful, and a timber framed patio roof ensures that your summer fun won't end early by providing protection from the heat and unexpected weather changes.
A timber framed patio roof is a fantastic addition to match the rustic aesthetic of your home and help you enjoy more time outdoors. Whether you're hosting a backyard get-together or looking for a relaxing outdoor dining area, a timber framed patio roof will provide an intimate outdoor space that expands the functionality of your backyard.
A timber framed roof or covered deck with integrated overhead lighting offers more than simply shelter and weather protection. These kinds of outdoor spaces provide a comfortable place for outdoor activities that bring families and friends closer together, where you can sit back and relax, play a game, or watch a movie outdoors.
---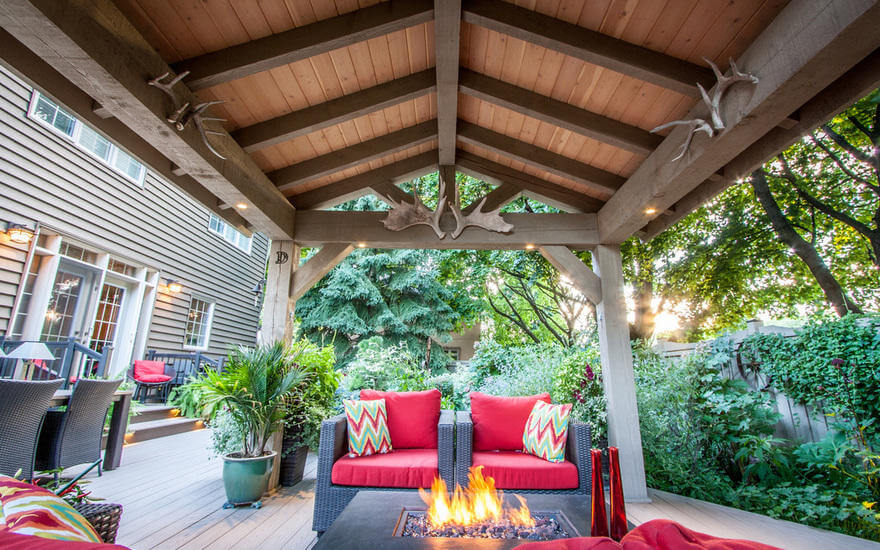 We've Helped Hundreds of Customers
"This is the second time that we have worked with Miro and his team at Royal Decks and Landscaping. A few years ago, Miro installed an interlocking patio. It increased our use of that area so much, that we decided to have him back, to build a permanent patio roof."
— B. Brydgs Mississauga,