Decks have become a must-have in the modern home, but they are by no means a new invention. Decks have been around for well over 50 years, providing solid outdoor space for families from all walks of life, supporting barbeques and diners alike, and allowing proud owners to boast a neat and sturdy structure that mirrors interior conveniences (like even flooring) while set in the ultimate open concept venue: the great outdoors. Following the growth and diversification of the decking industry is no small undertaking, so we will focus here on the most concrete aspect of deck evolution: the evolution of decking materials.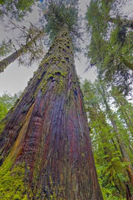 Thirty years ago it was easy to choose the perfect decking material. People generally chose their deck board from among the few options then available, namely pressure-treated lumber, cedar, or, more seldom, redwood. There's a good reason for the smaller selection: back then decking materials were made from 1st generation trees. These trees were slow grown and thus yielded higher density lumber which was much more resistant to rot and insect attacks. In other words, the wood available for decks 30 years ago lasted a lot longer than what is available today. Modern trees from tree farms that are engineered to grow quickly do not share the same properties as first generation trees, hence the advent of man-made deck materials.
The limited natural wood choices available thirty years ago are merely a drop in the bucket in today's decking industry. There are now literally hundreds of options to choose from, and thanks to modern technological advances, those options are not all made of wood. Countless varieties of manmade materials are available which lack some of the undesirable properties of wood, while among natural wood products tropical hardwoods such as Ipe and Batu are gaining popularity. Below we'll follow the birth and development of modern man-made decking materials, then have a look at what nature has to offer the modern deck.
Composites: Early Innovations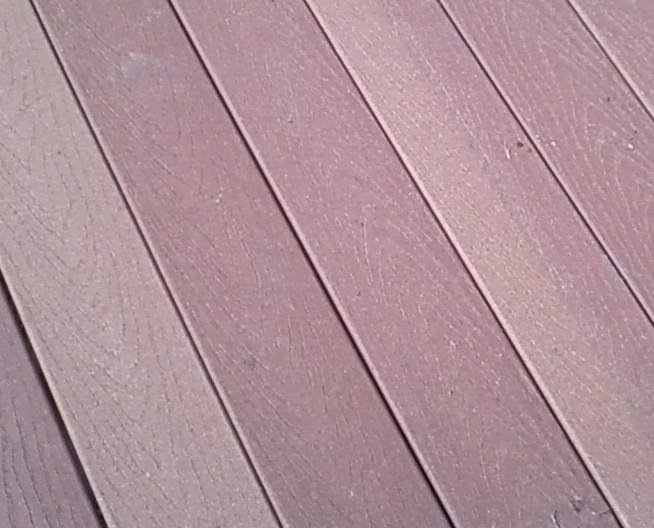 The early 1990s saw the birth of composite decking board. Scarcity of first generation trees due to deforestation and the poorer quality of less mature wood for decking materials led a company called Trex to brainstorm and come up with a deck board that combined wood fibre and plastics. Due to their innovation, today 'Trex' is synonymous with composite decking products in much the same way as 'Kleenex' is with paper napkins. These composites - or wood and plastic composite products (WPCs) - were, however, not perfect.
In the early years. WPCs were built from thermoplastics and wood flour - often recycled - which would sag, crumble, crack, split, expand and contract dramatically over time when installed and left baking in direct sunlight. Other undesirable properties included rapid discoloration and mould and mildew growth just weeks after installation. Some of these disadvantages still constitute challenges in the use of composite decking products, though composite decking has come a long way since 1992 when the first product appeared. New companies have come up with solutions to the problems inherent in composite decking board, making the deck look more real with wood grains, limiting discolouration and improving the mould and mildew issue. Some of these companies also experiment with rice hulls and other new technologies and plastics, but in my experience anything with composite materials is likely to be an inferior product due to the reliance on organic materials. Indeed, it appears that composite decking products are being phased out in favour of new and better products which are described below.
Plastic Decking: Revolutionary Decking on the Rise
In the early 2000's a few companies decided to remove the weak link in composite decking materials, and only use the plastic component. Such deck boards are classified as plastic or PVC decking materials. In early attempts, as with composite decking, PVC deck boards had some shortcomings. PVC would become brittle or start sagging over time. Fortunately, the companies VEKAdeck and Procell (now known as Azek) came out with new and improved products that addressed these flaws and revolutionized decking.
The new PVC deck boards are physically attractive, truly durable and require no maintenance other than a pass with a hose or damp mop. Currently PVC decking is our best seller because we can genuinely recommend it. The advantages of modern PVC decking are many. Here are some of those sought after properties: plastic decks are guaranteed not to fade, have minimal expansion/contraction rates, are hard to scratch and don't crack, and are resistant to mould and mildew. Plastic may not seem like a traditional choice for your deck, but it offers a great many advantages in PVC board as well as the newer hybrid version of plastic board that we'll look at next.
Capstock: the Best of Both Worlds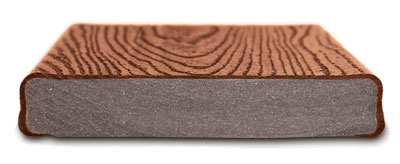 Just a few years ago, in 2009, yet another new product was born that would be as durable as PVC or plastic decking, and as environmentally friendly as composite decking materials. The marriage of composites and plastics came to be called capstock, and was created by wrapping the composite board with plastic products in various ways. The combinations of materials are diverse, but physically the composite board is either covered by plastic on three of sixflat surfaces, or four of the six sides. In practical application of this nearly brand new decking board, it appears that covering only three surfaces and leaving the bottom surface of the deck board exposed has a slight advantage as it allows for easy moisture transfer between the deck board and the environment. On the other hand, when four sides are covered by plastic moisture transfer only occurs at the ends of the deck boards, which can lead to swelling if the ends are not properly sealed. Capstock is available in many colours, including very attractive tropical wood shades that look almost as good as hardwoods. It is likely that capstock products will eliminate the lower end composite products over time, though capstock is much more expensive to manufacture and therefore carries a higher price tag.
Tropical Hardwoods: the Ultimate Natural Product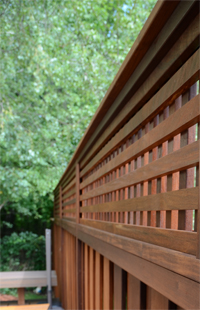 Tropical hardwoods have been available since the 1960s, and have remained a popular choice in decking for the past fifty years. Hardwoods are an excellent choice for people who want a low maintenance deck made of a natural product, and do not like the artificial look of composites, plastic decking or capstock. The two most popular tropical hardwoods come from the Ipe trees of South America and the Batu trees of South-East Asia. These decking hardwoods offer excellent durability and natural resistance to weather, rot and insects. All Ipe and Batu decking boards come completely free of any knots, giving them a sleek, high-end appearance. The Batu and Ipe decking boards offer beautiful finish options: untreated wood weathers to a silver sheen which is very popular with architects these days, while oiled wood brings out rich brown to reddish tones, depending on the species of wood. Beyond the aesthetic appeal, oiling Ipe or Batu decking is advisable as it protects the hardwood from
absorbing moisture and therefore provides a certain level of dimensional stability in addition to protecting the hardwood from harmful UV rays. Tropical hardwood decks are more costly for two reasons: the building procedure and the environmental ramifications. First of all, hardwood decks are built using an entirely different process, and are thus more expensive to install than softwood decks. Second of all, because hardwood harvesting is an environmental concern in many parts of the world, the FSC (Forest Stewardship Council) approves hardwood harvested in a sustainable manner. FSC approved wood carries a 50% premium on the price, but non-certified Ipe decking wood is also available at a lower cost. Thus Batu and Ipe decking is more costly, but tropical hardwoods such as these are the time-honoured choice for decking materials. Decking options these days are plentiful. There is a great variety of products available in a great range of colours. It can be quite a job to choose the right decking material for your needs. It is advisable to take the time to ask yourself what the most important functions and characteristics of a deck are to you. Which advantages and disadvantages will most impact the deck you plan to have? How much time do you have available for maintenance of your deck? What kind of budget do you have? With these questions in mind, do explore our website to find honest reviews of all the individual products and our experience with them, or call us for professional input to help you choose your new deck.