Looking for some ideas?
Here are some of the services we provide.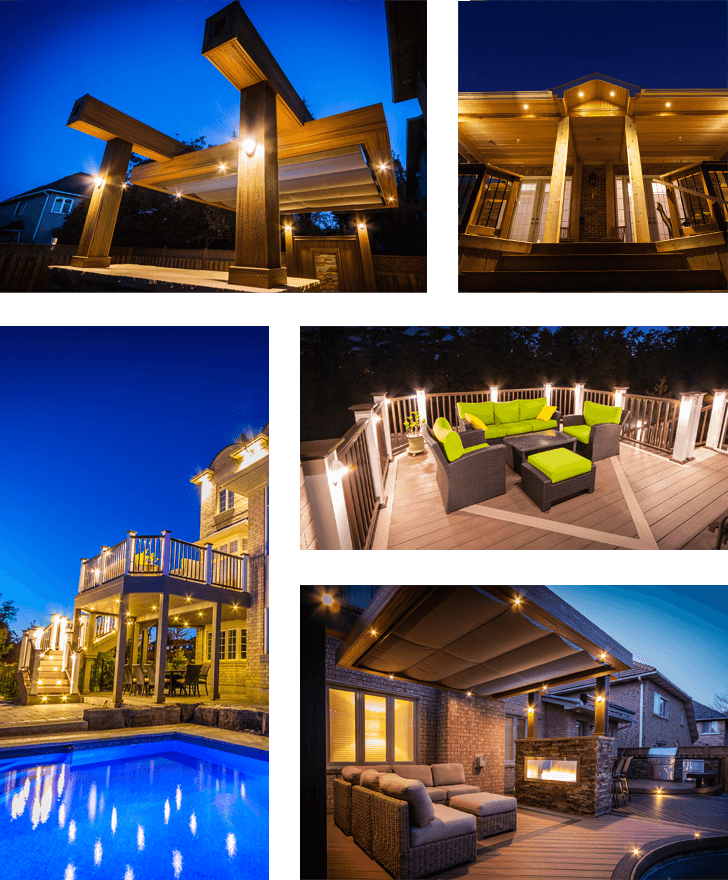 Royal Decks Delivers
Royal Decks and Landscapes specializes in modern and contemporary designs. Our goal is always to make the best out of your home. Make your next vacation happen in your own backyard.
Designing outdoor living and growing spaces is truly art in nature. Over the past decade, the landscaping industry has grown leaps and Decks is always on top of the latest techniques, trends and technologies to help you grow. Our 13 years of experience gives us the edge to make your front or backyard both functional and beautiful.
One of our biggest goals in company is complete customer satisfaction. One way this is achieved is through constant communication throughout the entire design and construction process. It is in recognizing the details of innovative design, fine woodworking and landscaping that sets us apart.
ROYAL Decks Co. is a custom decking company priding itself in high quality of work and complete customer satisfaction. ROYAL Decks Co. focuses on specialty materials, such as exotic hardwoods, low maintenance materials and high grades of cedar. ROYAL Decks Co. offers a complete solution for a homeowner from custom designs to the execution of the project.
ROYAL Decks Co. was founded in Burlington Ontario and quickly grew to serve all surrounding areas of Toronto and from 2008 also Calgary. We are successful because we take every project as if it was the only one, although we build hundreds each year.
Our success is based on the following five core values:
Great design
Quality work
Build on time and budget
Provide great warranty
Safety
Great design
In order for the deck to be great, it has to be usable, look great and fulfill all of the customer's expectations. With our extensive experience, we will work with you to design the deck that will serve the purpose, according to your needs. This means getting the right size and shape of the deck, getting the right features and selecting the right materials. We work with many materials of different properties and we are sure to find one that will work for you.
Build quality
We have only the most experienced carpenters. Our carpenters have been in construction most of their lives and they build decks not because they have to, but because they love it. All of our decks have to meet very strict ROYAL Decks Co. quality control on top of any building code requirements. Our decks not only meet building code, they exceed it.
Build on time and on budget
Our estimate includes time frame when the project will be started, how long it will take and how much exactly it will cost. We strive to make the construction process an enjoyable experience. That is why we take these extra seriously.
Provide great warranty
We are proud to give one of the best warranties in the business to every deck that carries ROYAL Decks Co. name on it. We stand behind the work that we do. To see details about our warranty please visit our warranty website.
Safety
Safety is our utter most requirement doing any work. We carry both WCB and WSIB, to date without a single claim. We keep our workplace neat and organized to minimize any injuries.